A Focus on Vocabulary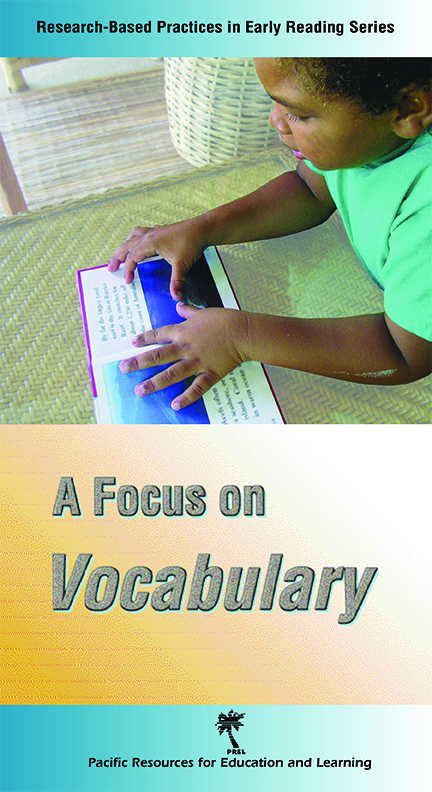 Book
Fran Lehr, Jean Osborn, & Elfrieda H. Hiebert
Lehr, F., Osborn, J., & Hiebert E. H., (2004).  A focus on vocabulary. Honolulu, HI: Pacific Resources for Education and Learning.
Published by PREL, A Focus on Vocabulary is an introduction to vocabulary instruction.
A Focus on Vocabulary is the second in the Research-Based Practices in Early Reading Series published by the Regional Educational Laboratory at Pacific Resources for Education and Learning.
Of the many compelling reasons for providing students with instruction to build vocabulary, none is more important than the contribution of vocabulary knowledge to reading comprehension. Indeed, one of the most enduring findings in reading research is the extent to which students' vocabulary knowledge relates to their reading comprehension (e.g., Anderson & Freebody, 1981; Baumann, Kame'enui, & Ash, 2003; Becker, 1977; Davis, 1942; Whipple, 1925). Most recently, the National Reading Panel (2000) concluded that comprehension development cannot be understood without a critical examination of the role played by vocabulary knowledge. Given that students' success in school and beyond depends in great measure upon their ability to read with comprehension, there is an urgency to providing instruction that equips students with the skills and strategies necessary for lifelong vocabulary development.
The focus of this booklet, therefore, is on vocabulary instruction as a component of reading comprehension. The booklet does not attempt to address issues related to stand-alone vocabulary building programs and strategies.
The purpose of this booklet is to examine what research tells us about how students acquire vocabulary and about what instruction must do to help students develop the kind of vocabulary knowledge that will contribute to their reading success. We begin by clarifying exactly what we mean by vocabulary.
Download: Lehr-Osborn-Hiebert-2004-A-Focus-on-Vocabulary-Booklet