Common Core State Standards
TextProject Research Articles on Common Core State Standards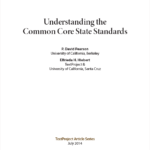 P. David Pearson & Elfrieda H. Hiebert
Standards have become a staple of the American school and curriculum since they first entered the reform scene in the early 1990s. Conceived in the wake of the highly influential National Governors Conference of 1989—endorsed by conservatives, liberals, and radicals alike (albeit for vastly different reasons), and reformulated many times since their inception—schools, teachers, and students find their academic lives shaped by whatever standards hold court in their educational corner of the world. After the completely voluntary effort to produce national standards by the math community, the first major wave of standards was sponsored by federal and quasi-federal agencies, including the Office of Educational Research and Innovation (OERI) and the National Academy of Science, with the goal of encouraging disciplinary professions (e.g., History, English Language Arts, and Science) in the early 1990s to develop a clear statement of what students should know and be able to do at various developmental levels.   The idea was that, with broad agreement on these curricular outlines of the typical progression of student performance, assessments and curricular schemes could be developed and implemented that would guarantee that students would meet the benchmark performance standards along the journey to successful achievement and, eventually, participation in the world of work and higher education.   Students would go on to college and into the workplace armed with the knowledge, skills, and dispositions needed to be successful in their post-secondary lives.   That was the dream, the hope, and the expectation we began with in 1989.   And it was still the dream in the late 1990s when the Clinton administration undertook a valiant effort to ensure, via Title I (IASA), that all states had developed content standards and tests to measure their acquisition. The Common State Core Standards (CCSS; Common Core State Standards Initiative, 2010) represents the latest, and in many ways the most ambitious, version of that same vision of what standards could do for schools, teachers, and students.   What is most significant about the CCSS is that unlike the state action in response to IASA or NCLB, the CCSS effort was driven by the states, not a federal agency or even a federally sponsored initiative.   Initiated under the auspices of the National Governors Association (NGA) and the Council of Chief State School Officers (CCSSO), it is a bold attempt to ensure that at the end of the K-12 curricular journey, students were prepared to enter either college or the workforce and take their place as knowledgeable, contributing members of the American economy, society, and polity.   As a state-led initiative, the CCSS are intentionally designed to improve upon the current standards of individual states by creating clear, consistent, and rigorous standards to which all American students will be held, irrespective of the particular location of their residence. In short, opportunity to learn would not be an accident of a student's "zip code".   
Pearson, P.D., & Hiebert (2013). Understanding the Common Core State Standards. In L. Morrow, T. Shanahan, & K.K. Wixson (Eds.), Teaching with the Common Core State Standards for English Language Arts: What Educators Need to Know, Grades Pre-K-2 (pp. 1-21). New York, NY: Guilford Press.
Download:
Pearson-Hiebert-2013-Understanding-the-CCSS
Much attention has been paid to the call in the Common Core State Standards (CCSS; National Governors Association (NGA) Center for Best Practices & Council of Chief State School Officers (CCSSO), 2010) for more reading and writing of informational text in the elementary grades. Indeed, in the context of the CCSS, informational text is on even footing with literature—perhaps for the first time ever. It would be possible to respond to the call for more attention to informational texts by simply changing the balance of different text types used for instructional purposes. In this article, we discuss why this approach would miss of the intent of the CCSS and why we should focus attention on using the opportunity of reading more informational text to build students' disciplinary and world knowledge. We suggest that the critical message of the CCSS is the need to support students in developing knowledge for and through reading.To understand how knowledge should and can be foregrounded in ELA instruction, we develop three points:The increased attention to nonfiction texts in the Common Core stems from the emphasis on knowledge. Knowledge and comprehension are synergistically connected to one another. ELA instruction needs to be multifaceted to ensure that existing knowledge is activated and new knowledge (and ways of gaining new knowledge) is built.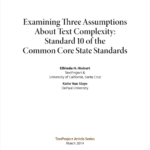 Elfrieda H. Hiebert & Katie Van Sluys
At its core, reading involves a text and texts vary greatly in complexity—their structures, vocabularies, styles, and topics. Standard 10 of the Common Core State Standards (CCSS; CCSS Initiative, 2010) calls for students to grow capacity in reading texts of ever increasing complexity over the school years, culminating in high school graduates' ability to read the complex texts of college and careers. The CCSS is the first standards document to recognize this fundamental feature of literacy. The writers of the CCSS are to be applauded for their recognition of a central feature of reading instruction that has often been ignored. As is always the case in a human endeavor, translating vision to practice means that tough choices need to be made. That was so in the CCSS writers' description of a staircase of text complexity where decisions were made about such thorny issues as ways to measure text complexity and which texts exemplify complexity at different points along the staircase. In this response, we consider three assumptions about the view of text complexity as operationalized by the CCSS. We are concerned that these assumptions, if left unexamined, could increase the achievement gap, as they become part of state and national policies. At the outset, we emphasize that we support strongly the goal of increased reading of complex texts and accompanying reading practices. A complex view of text complexity, however, is needed to ensure that appropriate texts and instruction are provided such students can increase their capacity to engage with complex texts. Before addressing the three assumptions and their potential consequences, we describe why text complexity was included as a distinct standard within the CCSS.
Hiebert, E.H., & Van Sluys, K. (2014). Examining three assumptions about text complexity: Standard 10 of the Common Core State Standards. In K.S. Goodman, R.C. Calfee, & Y.M. Goodman (Eds.), Whose knowledge counts in government literacy policies? Why expertise matters (pp. 144-160). New York, NY: Routledge.
Download:
Hiebert-Van-Sluys-2014-Examining-Three-assumptions-about-text-complexity