The Word-Conscious Classroom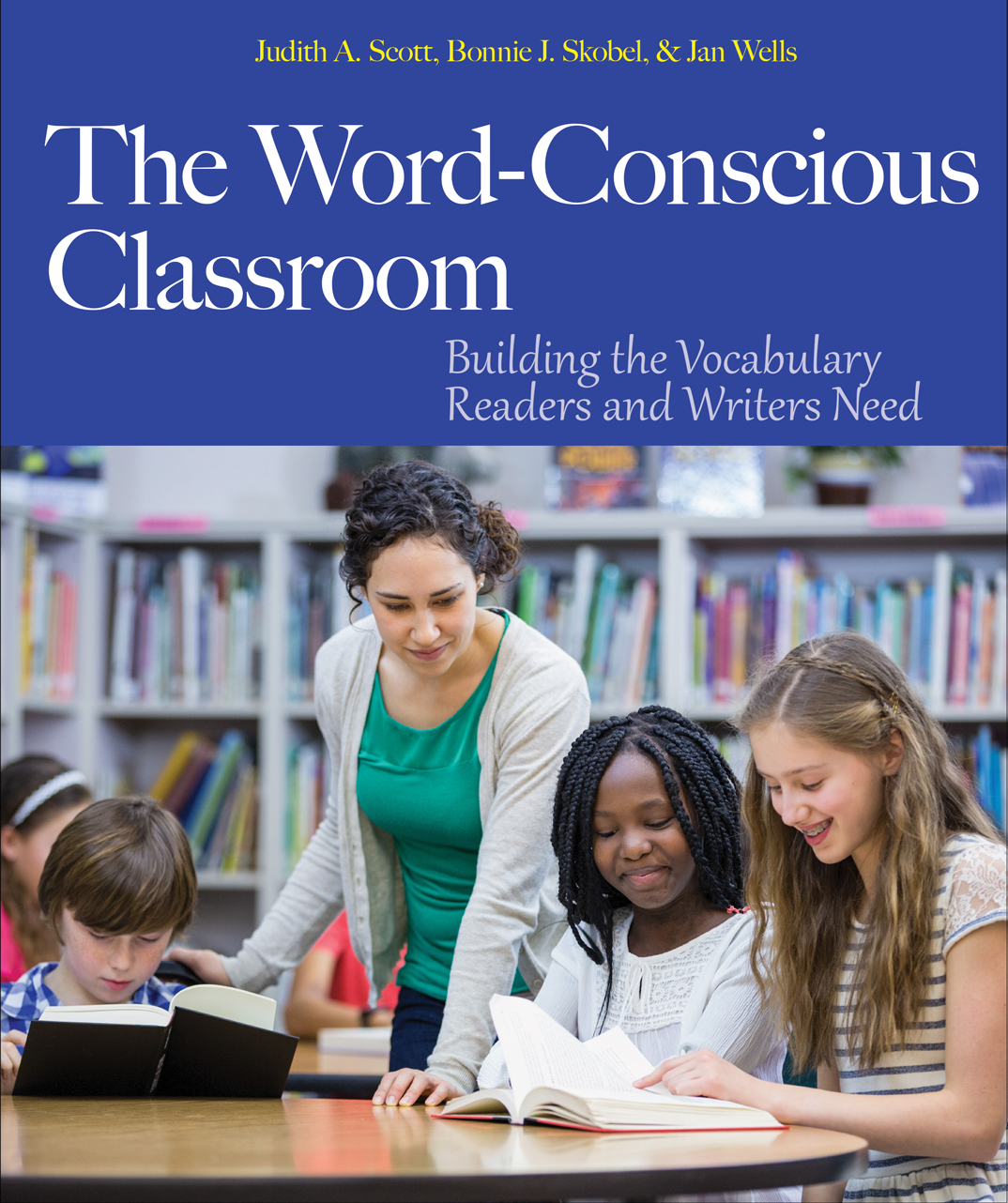 Book
Scott, J.A., Skobel, B.J. & Wells, J., (2016). The Word-Conscious Classroom: Building the Vocabulary Readers and Writers Need. (reprint of 2008 edition) Santa Cruz: TextProject, Inc.
Introduction
This book is about developing a word-conscious classroom, where teachers and students are excited by words and appreciate the power of words as tools for communication. When you think about word learning, you may sigh and think of vocabulary booklets where students memorize lists of unrelated words in order to pass a test. Let us assure you-this is not how we conceptualize vocabulary learning, although, to be honest, it's not far from how some of us started. The purpose of this book is to take you on our journey as teachers and researchers who came together to try to improve vocabulary instruction in classrooms.
We want to help you infuse vocabulary learning in your classroom throughout each and every day. We have found that creating such a word-conscious classroom can make a tremendous difference in your students' abilities to write interesting stories and other text types, read critically, and join in the literary discourse of schools.
When we talk about vocabulary learning, we are talking about both concept development and understanding the meaning of words. Other aspects of word learning, such as spelling and decoding, are related and important, but we are choosing to focus on developing word meanings within an integrated approach to language development. This means understanding new words in both oral and written language as well as expanding the ability to use words, to understand multiple meanings for the same word, to understand the nuances of using a word, and to understand how a word fits into a larger schema of understanding. As we build vocabulary knowledge, we are building both world knowledge and knowledge of how words work in the English language (Hirsch, 2003).
When Bonnie asked her sixth-grade class to describe the most important thing they'd learned as writers from spending a year in her class, Abhidi said, "Before, when we did writing, we just did stories. Putting powerful language, like metaphors, similes, or changing said to yelled makes my stories more powerful. I never knew that would make my story better before, but it makes my stories more powerful and people like to read them."
In this book, we take the position that learning about words is as central as breathing in a literacy classroom, because words are the cornerstone of both oral and written language. Learning about words is inseparable from learning about reading and learning about writing. And, when they are taught together, a synchrony exists that goes beyond all three.
Come Along for the Ride
In this book, we invite you join us on a whirlwind ride through ten years of laughing, playing, working, and learning together. We think it's important for you to realize how these ideas came together and to know that they have been refined through experiences with real students in real classrooms. The ideas in this book come, for the most part, out of our explorations together as we tried to integrate what we know about good literacy practices with what we know about vocabulary learning. A group of us, including the three authors, were part of a teacher research project with a focus on vocabulary that met for dinners, discussion, and brainstorming sessions for almost a decade. These meetings were part of what we call a think tank model of professional development and exploration (Henry et al., 1999). In this model, teachers and researchers come together, each bringing a high level of expertise in his or her own area. The combined expertise in our meeting room was amazing.
Bonnie had taught for 30 years, served as the social studies helping teacher for her district, and, as a faculty associate (on loan from her district to supervise student teachers), taught the language arts methodology course for Simon Fraser University. At the time of this project, Bonnie was both a grade 6/7 teacher and the principal of an urban elementary school where students came from a variety of cultures and spoke several different languages.
Jan had been a teacher for 23 years, the reading consultant for a large urban metropolitan district in Ontario, and a faculty associate who taught both the reading and the language arts methodology courses for Simon Fraser University. She was a grade 4/5 teacher at the time of the project and later became the primary literacy consultant for the Vancouver School Board. Both Bonnie and Jan had taught several different grades, from primary to intermediate, throughout their careers.
Judy was an assistant and later associate professor in reading and literacy at Simon Fraser University after finishing her dissertation in educational psychology/curriculum and instruction/ reading/vocabulary at the University of Illinois at Urbana-Champaign. Prior to that she had been a teacher and graduated with a Reading Specialist credential from the University of California at Davis.
Other core members of the group mentioned throughout the book were a band of exemplary classroom teachers: Teresa Blackstone, Alan Jones, and Susie Cross. Cindy Butler was the main behind-the-scenes research assistant for the project, and she entered the teaching profession during this project.
Our common connection came through Simon Fraser University, where several members of the group had served as faculty associates, took classes, or taught classes on literacy. From the outset, it was clear that the members of the vocabulary group shared a common vision and theoretical frame. In particular, we were informed by Lev Vygotsky's notion of sociocultural interactions and the power of discussion as a means to create new understandings and expand our horizons (Vygotsky, 1978).
When Judy received a grant to explore alternatives to traditional vocabulary instruction, she invited members of the group to join her as teacher researchers who combined their expertise in teaching with her knowledge of vocabulary research. The diversity of perspectives was celebrated as essential in their construction of new understandings about effective vocabulary instruction. Coming together as a group of experts alleviated many of the issues associated with collaborative projects, such as hierarchy, credibility, and ownership (Henry et al., 1999).
Because their expertise as teachers brought them to the group, the teachers didn't feel as though they were unequal partners. Instead, their expertise was explicitly valued and encouraged to flourish. The university participants were also acknowledged as experts in the research community who could offer a different set of skills and abilities to the group. Our unique strengths contributed to our abilities to learn from each other, help each other, reflect on our practices, engage in shared critique of those practices, and support one another in making professional choices and change. In one paper written about this project, we identif1ed these elements of the group dynamic as essential in contributing to the sense of community: (a) safety, built on respect, (b) engaging dialogue, (c) collaboration among equals, (d) personal commitment, and (e) time.
The topic, vocabulary learning, was defined, but how we explored it together and what we were not. The teacher researchers and university researchers all acknowledge that they changed and benefited from their involvement in the project (Henry et al., 1999). We were all energized by the opportunity to discuss ideas, practice, and problems with each other. Bonnie gave a workshop for a local school, the principal, Grant Mcintosh, thanked her by presenting her with this story:
She was arriving at school feeling bored and listless. The spectre of another morning reading her students' stories, dripping with mindless violence and populated by mundane characters, was daunting. She needed a teaching makeover desperately! She yearned to hear real children's voices in their writing, real emotion, real people, the imagination that kids have. Where could she go? It wasn't as if there was a shop like a beauty salon where one can go for this kind of service. Mud mask? Hair color? Nails? Style? Massage? New way of teaching writing?

Just when her life was at its darkest, when she was considering a career in real estate, she got a call that was to change her life-well, her teaching life, anyway. She joined a group of teachers who shared some of the same feelings about kids' writing. They talked about it, they laughed, they cried, and they looked for ways to help children tap into their rich imaginations. She brought real stories with powerful language to the students and let them borrow and steal words and characters and ideas for their writing. She developed all kinds of strategies to help kids discover, enjoy, and play with language. They wrote poems, memories, adventure stories, and picture books. They wrote like readers and read like writers! It was like a renaissance in her classroom … (fast-forward three years).

Now every day she rushes to school, flushed with excitement at the prospect of reading her children's stories and seeing the fruits of her labors. Right? Get real! But at least now there is a possibility that she will be able to read some writing that is fresh, interesting, dynamic, imaginative. She'll settle for just one of these. (Skobel, 1998)
This humorous essay shows why we did what we did. In the workshop, Bonnie conveyed her previous sense of despair as a teacher of writing and the excitement she felt as her students began to become conscious of the power of words as tools of communication. Many teachers share her struggle. Perhaps you are one of them. If so, we hope our explanations of struggles and successes will enable you to ponder your own practice and help you with the vital job of teaching students to be better readers, writers, and word users.
How the Book Is Organized
This approach to vocabulary learning may sound daunting. Please realize that the purpose of this book is to strip away some of the anxiety that teachers may feel when they think about teaching vocabulary. In this book you will find practical activities tried by classroom teachers who were exploring how to use what we know about teaching and learning to inform the teaching and learning of vocabulary. In the process, we developed techniques that helped students become both more expressive writers and more critical readers. Adding to a teacher's workload is certainly not our intent. The teachers we know and work with are all juggling the various demands of classroom life with skill and dedication. We hope that this book conveys our enjoyment in discovering ways to infuse this approach into the everyday working environment of the classroom.
The rest of this book is about how to create an enticing vocabulary-learning environment for children, a place where word learning is woven into the daily fabric of reading, writing, speaking, and listening. It is based on both theory and actual experiences with children and classrooms. In the first chapter, we introduce the concept of word consciousness and our general theoretical frame. In Chapter 2, we expand on the idea that authors give readers a gift-the eloquence of their words. In Chapter 3, the goal is to raise general awareness and interest in words through games and other stand-alone activities. Infusing word consciousness into classrooms can take place on many levels, and this chapter introduces methods to generate excitement about words as well as increase the volume of vocabulary exposure. Chapters 4 and 5 discuss the use of cherished books, touchstone books, and mentor texts to scaffold word awareness, starting with whole-class modeling and facilitation, and moving toward word consciousness in independent reading. Looking carefully at mentor texts allows a student to develop a bank of words. Then, in Chapters 6 through 10, we demonstrate how to encourage students to draw on this bank of words in their own writing.
Again, we start with whole-class modeling and facilitation and move toward word consciousness in independent writing. The teacher is the guide in this explicit development of word consciousness. However, the role of the teacher is that of a facilitator, a coach, a leader, and a collaborator. It is through focused discussion, scaffolded interactions, and experimentation that students develop and create ownership over the words they encounter and use in schools. It is also through these sorts of experiences that children learn about the power of language in our classrooms.
In Chapter 11, we turn our attention to assessment and evaluation. Although this topic is addressed at the end of the book, it is not the case that evaluation is considered last in our planning. In fact, establishing criteria for success-developing rubrics and rating scales together with our students-is an important part of teaching. When we show the criteria for success, the learner becomes involved in the ongoing assessment of his or her own learning. The last chapter revisits our theoretical frame and emphasizes the next steps in developing a word-conscious classroom, given the content of the book.
The shared vision outlined in this introduction provides the foundation, as does our conviction that classrooms are best conceived of as communities of children, all of whom are active constructors of meaning, operating on multiple levels of negotiated tasks toward clearly specified outcomes.
Download: Scott-2016-The-word-conscious-classroom