Resources for Teachers
The name TextProject says it all: Our specialty lies in texts. We have texts for instruction of beginning and struggling readers and for read-alouds. But our resources go beyond texts to include support for teachers, including guides, lists, and forms. We also provide outstanding pictures to use for vocabulary instruction.
---
Free texts for reading instruction! TextProject is the sole website with free texts based on the science of reading. The TExT model underlying our texts has been validated through scientific research.
Read more
Vocabulary knowledge is the single best predictor of students' comprehension of texts. The reading of complex texts requires that students have rich vocabularies. The two types of reading lessons provided by TextProject—E4 (Exceptional Expressions for Everyday Events) and S4 (Super Synonym Sets for Stories)—support the development of strong and generative vocabularies.
Read more
The Reading GPS is intended to give teachers information about where students currently are and whether they are moving in the right direction toward the goal of proficient reading.
Read more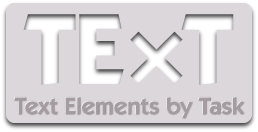 Learn more about the Text Elements by Task (TExT) model of text complexity and how it was used to design the texts in the popular QuickReads program.
Read more