BeginningReads™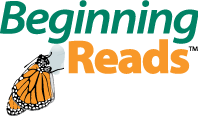 The BeginningReads program supports teachers, parents, and tutors in bringing children into reading. Before children learn about written language, they have developed a substantial oral language word bank. The goal of BeginningReads is to connect student's oral language knowledge with written language. The texts do this by placing a premium on words that are both highly concrete and phonetically regular—words such dog, cat, pet, and big. Each level has 12 4-page books that share a set of concepts, which allows young readers to see the same words in many different texts. Each book is provided as a double-sided PDF ready for printing.
BeginningReads is also available as iBook on iTunes!
Download BeginningReads free printable texts:
Download BeginningReads texts as free printable pdf files. Toolkit for Tutoring Resources and Teach Your Child lessons are grouped with each Level.
Don't miss out on the additional resources that support BeginningReads:
Toolkit for Tutors, a tutoring guide for BeginningReads texts:
word cards for vocabulary instruction,
text-only texts of BeginningReads to facilitate close reading and further vocabulary instruction,
Reader's Theater to extend the learning by providing another opportunity to utilize skills and vocabulary words learned in the BeginningReads program.
Tutoring guide for BeginningReads, FYI for Kids, SummerReads, and Talking Points for Kids.
Uses resources found in ToolKit for Tutors and Teach Your Child Lessons