E4: Exceptional Expressions for Everyday Events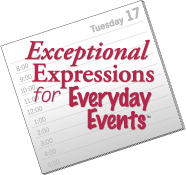 E4 Complete Edition
All 32 E4 vocabulary lessons plus a comprehensive introduction in one convenient PDF eBook
Free Download! With over two years of development and prototyping behind it, the E4 Complete Edition compiles the revised, updated, and polished versions of all 32 E4 vocabulary lessons, plus an all-new introduction, into one convenient PDF eBook. (173 pages, 23.4MB)
E4 is a series of 32 flexible vocabulary development lessons each focusing on an everyday concept and brainstorming other words that describe the concept. Each activity can be used for a few minutes a day over the course of a week.
The heart of each E4 vocabulary lesson is the word web, describing in detail various meanings of each word and showing other words with similar meanings, plus idioms, common phrases and a unique E4 feature called the Spanish Connection that shows English-Spanish cognates relating to each word. Each lesson also includes a morphology web that summarizes word changes such as inflected endings, prefixes, suffixes and compound words. We provide two versions of the webs for each lesson, one filled-in and one with blank boxes. These can be projected using an interactive whiteboard or as overheads (they're even simple enough to redraw on a blackboard), making possible a variety of flexible usage scenarios. You can also adapt the blank form for use as a worksheet.
A one-page description provides teachers with the background of each E4 word, with suggestions for how to structure classroom activities. The all-new E4 introduction provides even more detailed suggestions about how to use E4 in the classroom and make the most of its vocabulary-enhancing potential. Designed for maximum flexibility, E4 provides opportunities for meaningful vocabulary lessons that take just a few minutes at a time, with enough breadth to last the entire school year. E4 is made available under a Creative Commons license and is completely free to download and use.