SummerReads project offers free, engaging texts for at-risk readers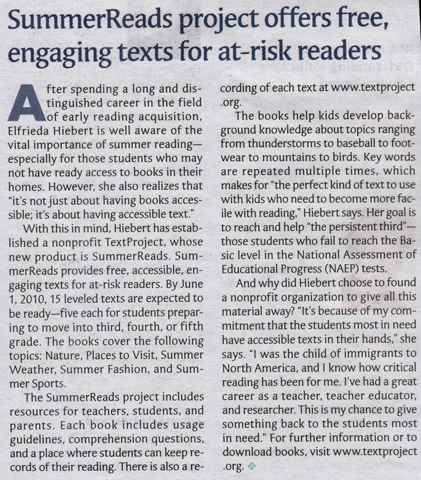 SummerReads was in the June/July 2010 issue of Reading Today!
After spending a long and distinguished career in the field of early reading acquisition, Elfrieda Hiebert is well aware of the vital importance of summer reading especially for those students who may not have ready access to books in their homes. However, she also realizes that 'it's not just about having books accessible; it's about having accessible text."
With this in mind, Hiebert has established a nonprofit TextProject, whose new product is SummerReads. SummerReads provides free, accessible, engaging texts for at-risk readers. By June 1, 2010, 15 leveled texts are expected to be ready-five each for students preparing to move into third, fourth, or fifth grade. The books cover the following topics: Nature, Places to Visit, Summer Weather, Summer Fashion, and Summer Sports.
The SummerReads project includes resources for teachers, students, and parents. Each book includes usage guidelines, comprehension questions, and a place where students can keep reords of their reading. There is also a recording of each text at www.textproject.org.
The books help kids develop background knowledge about topics ranging from thunderstorms to baseball to footwear to mountains to birds. Key words are repeated multiple times, which makes for "the perfect kind of text to use with kids who need to become more facile with reading," Hiebert says. Her goal is to reach and help "the persistent third"-those students who fail to reach the Basic level in the National Assessment of Educational Progress (NAEP) tests.
And why did Hiebert choose to found a nonprofit organization to give all this material away? "It's because of my commitment that the students most in need have accessible texts in their hands," she says. "I was the child of immigrants to North America, and I know how critical reading has been for me. I've had a great career as a teacher, teacher educator, and researcher. This is my chance to give something back to the students most in need." For further information or to download books, visit www.textproject.org.