Read-Aloud Favorites
Read-Aloud Favorites are an essential component of TextProject's mission of providing appropriate texts for struggling and beginning readers. The Common Core State Standards bring increased focus to what it is that students are learning in schools and what they need to know. Through read-alouds, students can be introduced to topics and genres that they might otherwise not be able to read independently.
To read more about the importance of reading aloud in a classroom, please read this blog entry in Frankly Freddy.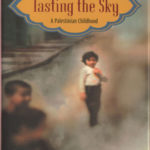 Tasting the Sky
Written by Ibtisam Barakat
In Tasting the Sky: A Palestinian Childhood, the author Ibtisam Barakat writes of her life during the Six-Day War and its aftermath. This book tells one of the many stories about life during that turbulent time in the Middle East. The author writes mostly about her life from 3 1/2 to 6 years old. As such, there are many happy stories of the author playing games with her older brothers. But the reader is never allowed to stray too far from the war and is reminded with details of hunger—relief organizations did not have enough food for everyone; and fear—Israeli soldiers knocking on the door. There is evidence of war sprinkled throughout the book. The book is a quick read, but allows the reader to look into what life was like for a family trying to survive in the middle of a war zone.
Grade Level: High School
Genre: Biography & Memoir
Format: Chapter Book
Content:
World History
Family Relationships
ISBN 13: 9780374357337
ISBN 10: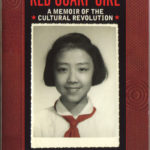 Red Scarf Girl
Written by Ji-li Jiang
History has shown that during a time of political revolution, many innocent and not-so-innocent people are persecuted for being against the revolution, their voices silenced forever or for the time being. This was particularly the case when Mao Ze Dong took over as the leader of China: he began several initiatives or revolutions. One of these was the Cultural Revolution. Many of China's people were caught up in the excitement in moving their nation towards a better future. However, there were some who criticized the initiatives and found themselves persecuted for their opinions. As more and more people sought to rid China of the counter-revolutionists, they found that the path toward the perfect soldier of China was a slippery slope.
This is a memoir of the author as a 12-year-old girl. Like many of her peers, the author wanted to join the Cultural Revolution. But her deceased grandfather, whom she barely remembered, was a landlord and thus her family was considered "black," or against the Cultural Revolution.
This book is based on the two-year timeframe during which the author struggled to fit in, when she was a social outcast, and when she tried to reconcile current political ideology with her loyalty to her family. This is a fascinating book that zips along, but the fear and confusion is palpable; at times it is a bit overwhelming. This is a good look at what happens when a family is caught on the other side of a revolution, as many Loyalists found themselves during the American Revolution.
Grade Level: High School
Genre: Biography & Memoir
Format: Chapter Book
Content:
World History
Growing Up
Family Relationships
ISBN 13: 9780064462082
ISBN 10: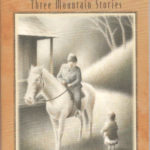 Mary On Horseback
Written by Rosemary Wells
Mary Breckinridge was the daughter of a well-to-do family with strong political ties to the US government. Her father was the US ambassador to Czar Nicholas II of Russia; her grandfather was the US Vice President. There were also other family members in the US Congress and state governments. While a daughter of a wealthy family in the early 1900s usually had hobbies like needlework or skills like tending to animals, they rarely had careers that took them in the deep woods of the Appalachian Mountains. What took Mary there was a series of unfortunate losses in her life. After the loss of her son and her divorce from her second husband, Mary made the decision to study nursing. When WWI began, Mary traveled to Europe to work as a nurse. After the war ended, Mary remembered the families that lived in the hard-to-reach areas of the Appalachian Mountains without a nearby nurse or doctor. She returned to the United States to help these families. Over time, Mary built clinics and brought in nurses and doctors from all over the world. She later established the Frontier Nursing Service, an organization that is still helping people in less accessible areas.
This book is a collection of three stories about the families Mary helped. They are snapshots of Mary's entire career. These true stories are heartfelt and provide powerful lessons of how one person can change the lives of an entire community.
Grade Level: 2-3
Genre: Biography & Memoir
Format: Chapter Book
Content:
Life Science
Societal Concerns
US History
ISBN 13: 9780141308159
ISBN 10: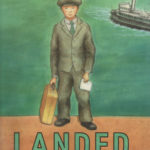 Landed
Written by Milly Lee; pictures by Yangsook Choi
There are many books out there depicting the experience of immigration into the United States. But this one had details I was unfamiliar with. Landed is a story about a boy named Lee Sun Chor who travels with his father from his village in China to the United States. Since Sun's father is a returning merchant, he is able to land at San Francisco. Sun, however, has to go to Angel Island by himself. There, Sun meets other boys that are in the same situation, waiting for their turn to pass the examinations and be granted permission to land on US soil.
This book is based on the experiences of Lee Sun Chor, the author's father-in-law. The unique perspective of preparing for the examination at Angel Island and the look into the day-to-day life of a boy living there make this book stand out.
The author has also written other interesting books of historical fiction. Earthquake is about the author's mother's experiences during the 1902 earthquake in San Francisco, CA. Nim and the War Effort is about the author's experiences collecting paper for the WWII war effort. Both are worth taking a look at too.
Grade Level: 4-5
Genre: Historical Fiction
Format: Picture Story Book
Content:
Family Relationships
US History
ISBN 13:
ISBN 10: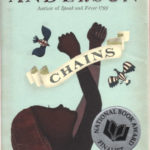 Chains (Seeds of America #1)
Written by Laurie Halse Anderson
Isabel and Ruth's mistress has just died. They were promised their freedom when their mistress died. But their mistress's nephew needs money, so he sells them to a couple from New England. From here Isabel and Ruth's story really picks up and things go from bad to worse. The couple they were sold to are Loyalists and it is 1776.
While the United States is fighting for independence from England, Isabel and her sister fight for their independence from slavery. Along the way Isabel meets a former slave boy who is fighting for the Patriots, and she spies for both sides. Isabel is willing to help anyone who promises to help her gain her freedom.
This book is the first in a trilogy and is followed by Forge (Book 2) and Ashes (Book 3). This book tells a fascinating combination of a slave fighting for her personal freedom and a nation fighting for their political freedom.
Grade Level: High School
Genre: Historical Fiction
Format: Chapter Book
Content:
US History
ISBN 13: 9781416905851
ISBN 10: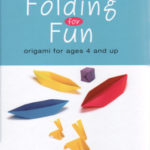 Folding for Fun
Written by Didier Boursin
This book has all the basic origami designs with patterns for a box, a plane, and a boat. But there are also some that are different and fun to try outside. This book is advertised for ages 4 and up, which is perfect for kindergarten or as an introduction to origami for older kids. The number of steps ranges from 15 for the box to only four steps for a noisemaker.
The large pictures and clear instructions are great to help ELLs practice their directional vocabulary. Unlike a more complicated origami book, Boursin limits the number of symbols used to seven. Boursin also uses four types of folds throughout the book.
Grade Level: 4-5
Genre: Nonfiction
Format: Picture Story Book
Content:
Music & Art
ISBN 13: 9781554072538
ISBN 10: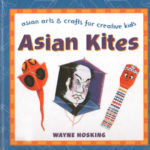 Asian Kites
Written by Wayne Hosking
Kite flying is one hobby that crosses cultures. There are different styles of kite making and it's really amazing that they are all made with a large sheet of paper (called the sail), thin wooden sticks (spars), glue, and a long string (kite line). This book is a great introduction into kite making. Hosking has an extensive background into the different materials that kites can be made of, and he also makes allowances for the casual hobbyist by describing inexpensive alternatives as well as other more expensive materials. Hosking has a great introduction that points out the strengths and weaknesses of different materials, such as silkspan versus tissue paper.
The patterns in this book are organized into the region from which they originated. For example, there are kites from China, Malaysia, and Korea. The simple and clear instructions are partnered with pictures. There is also a clear list of tools and materials needed for each kite pattern.
Grade Level: 4-5
Genre: Nonfiction
Format: Picture Story Book
Content:
Music & Art
ISBN 13: 9780804835459
ISBN 10: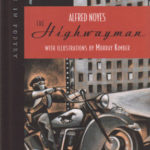 The Highwayman (Visions in Poetry)
Written by Alfred Noyes; illustrated by Murray Kimber
This book is the second in a series called Visions in Poetry. Like the other books in this series, the poems are favorites from long ago, but contemporary artists provide the illustrations. This presents a new and fresh approach that may catch the attention of today's teens. For example, in this 1907 ballad, The Highwayman, the anti-hero rides a horse, however, in the illustrations, he is riding a motorcycle. The villains in the ballad, the Redcoat troops, are dressed in long trench coats, instead of the traditional garb of the British Army. The illustrations, done in the film noir style, add to the mystique of a love affair gone wrong. The ballad is exciting to read, and the illustrations grab your attention. In the end, you can't help but get swept up in the story.
Grade Level: High School
Genre: Poetry & Verse
Format: Picture Story Book
Content:
Adventure
Poetry & Verse
ISBN 13: 9781553374251
ISBN 10: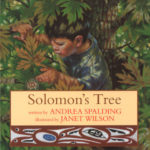 Solomon's Tree
Written by Andrea Spalding; illustrated by Janet Wilson
Solomon's Tree is about a First Nations boy's relationship with a beloved tree. Solomon is devastated after a storm knocks over the giant maple tree in Solomon's backyard. As a part of his grief, Solomon and his uncle, a Tsimpshian carver, make a mask from a log of the tree. The mask making process described in the book is based on the author's experience during a mask making workshop and on the artwork of Victor Reece. The other masks that the illustrator, Janet Wilson, uses in the book are also masks by Victor Reece. Solomon's Tree is a beautiful book that melds seamlessly the expertise of Spalding, Wilson, and Reece.
Grade Level: 4-5
Genre: Contemporary Realistic Fiction
Format: Picture Story Book
Content:
Earth Science
Growing Up
Music & Art
ISBN 13: 9781551433806
ISBN 10: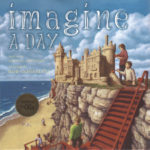 Imagine A Day
Written by Sarah L. Thomson; illustrated by Rob Gonsalves
As a companion to their last book, author and illustrator Sarah L. Thomson and Rob Gonsalves have teamed up to create Imagine a Day. Just like Imagine a Night, the text and illustrations are as beautiful and fanciful as any daydream. Each illustration shows the fluid nature of our daydreams, with objects that seem to blend together. For example, the green steeples of a row of cathedrals fade into the background where they look like tall trees growing on a mountainside. Imagine a Day encourages us to daydream and shows us what some daydreams may look like.
Grade Level: 2-3
Genre: Fantasy
Format: Picture Story Book
Content:
Adventure
ISBN 13: 9780689852190
ISBN 10: