Read-Aloud Favorites
Read-Aloud Favorites are an essential component of TextProject's mission of providing appropriate texts for struggling and beginning readers. The Common Core State Standards bring increased focus to what it is that students are learning in schools and what they need to know. Through read-alouds, students can be introduced to topics and genres that they might otherwise not be able to read independently.
To read more about the importance of reading aloud in a classroom, please read this blog entry in Frankly Freddy.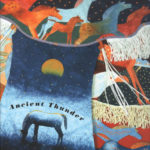 Ancient Thunder
Written and illustrated by Leo Yerxa
This is a beautiful book about the wild horses that used to live in the Canadian plains. The author and illustrator Yerxa uses his memories of these wild horses as inspiration for the text and illustration. To create the look of worn leather, paper was hand treated and vibrantly painted to look like authentic First Nations clothing. The result is a book where the clothing and the horses in the illustration seem to move. The text is lyrical and brief to allow the readers to focus more on the illustrations.
Grade Level: 2-3
Genre: Folklore
Format: Picture Story Book
Content:
Myths
Animal Stories
ISBN 13: 9780888997463
ISBN 10: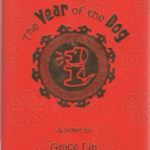 The Year Of The Dog
Written and illustrated by Grace Lin
It is the Year of the Dog, and Pacy is a Chinese-American girl living with her family in upstate New York. When Pacy's sister moves to middle school next year, Pacy will be the only Chinese girl in the entire school. That is until one day, a new girl arrives at the school. Her name is Melody and just like Pacy, Melody is from Taiwan. They soon become friends, and this book is the story of their first year of friendship.
This book is full of cultural references of Chinese celebrations, traditions, and phrases. The author describes her book as one that she wishes she had when she was growing up. It's not hard to see why. On a very basic level, Pacy and her family are holding on to the Chinese culture and tradition while adapting to the American culture and traditions. The Year of the Dog is a delightful book about Chinese culture and traditions, as well as friendship and finding one's strength.
The Year of the Rat is the sequel to The Year of the Dog.
Grade Level: 2-3
Genre: Contemporary Realistic Fiction
Format: Chapter Book
Content:
Family Relationships
Growing Up
Music & Art
ISBN 13:
ISBN 10: 031606002X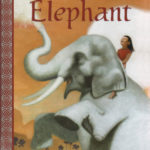 The White Elephant
Written by Sid Fleischman; illustrated by Robert McGuire
A white elephant is an idiom for a gift or project that seems like a wonderful thing, but which in reality is a burden. For example, a sports car would make a wonderful gift, but the price of gas and the insurance—not to mention the cost of maintaining the running condition of the sports car—makes it a burden for someone making an average salary.
Fleischman wrote this story based on an old story in which the King of Siam (today's Thailand) is angry with one of his courtiers. The king gives the courtier a white elephant, which drains the courtier's resources and ruins him. Fleischman's story explains the subtle nuance of the idiom in a way students will easily understand. Fleischman also creates a rich world that most students have never experienced.
Grade Level: 4-5
Genre: Historical Fiction
Format: Chapter Book
Content:
Animal Stories
Societal Concerns
World History
ISBN 13:
ISBN 10: 0061131369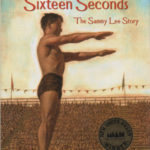 Sixteen Years in Sixteen Seconds
Written by Paula Yoo; illustrated by Dom Lee
In 1932, Sammy Lee, a Korean boy, liked to go to the community pool to cool off from the summer heat. Only allowed to use the community pool one day a week, there was little Sammy could do besides watch other children play in the pool. One day he watched a boy dive into the water "with hardly a splash." Sammy was hooked. He spent his Wednesdays practicing diving. When the summer Olympics came to Los Angeles in 1932, Sammy dreamed of diving in the Olympics. But Sammy's father wanted him to focus on his schoolwork and become a doctor. Years passed, and Sammy became a doctor, as his father had hoped he would. During this time, Sammy also served in the U.S. Army during WWII, but he never forgot his dream of becoming an Olympic athlete. In 1946, Sammy got permission from the Army and competed in the 1946 National Diving Championship. In 1948, Sammy was on the U.S. Olympic Diving team, where he won the gold and the bronze medals in diving. In 1952, Sammy came back and defended his Olympic title with another gold medal. Sammy was the first Asian-American to win an Olympic medal and was also the first male diver to win gold medals at consecutive Olympics for the same event.
Sixteen Years in Sixteen Seconds: The Sammy Lee Story is a great book about a great person. The author Paula Yoo does a good job keeping the story moving forward and focuses on Sammy Lee. The illustrations are beautiful and match the mood of the story.
Grade Level: 6-8
Genre: Biography & Memoir
Format: Picture Story Book
Content:
US History
Societal Concerns
ISBN 13:
ISBN 10: 158430247X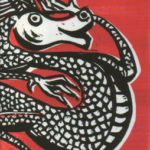 Legend of the Chinese Dragon
Written by Maria Sellier; Illustrated by Catherine Louis; calligraphy and chop marks by Wang Fei; translated by Sibylle Kazeroid
Legend of the Chinese Dragon is a beautiful book that is reminiscent of a Native American creation story. In many Asian countries the dragon is an all-powerful and benevolent creature. In China and Korea, it is believed that emperors were descendants of dragons. In Legend of the Chinese Dragon the story tells how the dragon was created from elements of animals that were worshipped or revered in the different regions of China.
The story is told in both English and Mandarin Chinese. It is a lovely story and the illustration style is reminiscent of Chinese paper cutting. The chops, or seals, are wonderful and would be a great activity for students to make connections between the Chinese character and the animal. For example, the chop for bird looks like the wing of a bird.
Grade Level: 2-3
Genre: Folklore
Format: Picture Story Book
Content:
Folktales
ISBN 13:
ISBN 10: 0735821526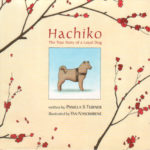 Hachiko
Written by Pamela S. Turner; illustrated by Yan Nascimbene
Hachiko is the name of an akita dog that lived in outskirts of Tokyo from 1923 to 1935. When he was still a puppy, Hachiko was brought to live with Hidesaburo Ueno. They soon started a routine of walking together to the train station in the morning so that Ueno could take the train to the University of Tokyo. After the train left, Hachiko would return home. In the afternoon, Hachiko would walk back to the train station and wait for Ueno to return. For a little over a year, Hachiko and Ueno followed this routine until in 1925, Ueno died of a stroke at the University of Tokyo, never returning home to Hachiko. At first, Hachiko went to live with Ueno's relatives in another town. But Hachiko would run away and return to the train station to wait for Ueno. Hachiko waited until his death in 1935. Some say Hachiko only returned for the food and water that people gave him, but Hachiko only returned to meet the evening train from Tokyo as it arrived at the station. Hachiko's story of loyalty is a national phenomenon in Japan.
In addition to the beautiful story—which is a fictional version—the artwork is stunning. Each illustration looks like it could have originally been a classic Japanese woodblock print. Hachiko's story is one of my favorite stories of all time. It ranks up there with Sadako and the Thousand Paper Cranes.
Grade Level: 4-5
Genre: Historical Fiction
Format: Picture Story Book
Content:
Animal Stories
ISBN 13:
ISBN 10: 0618140948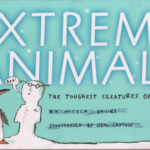 Extreme Animals
Written by Nicola Davies; illustrated by Neal Layton
In a style much like their other book Poop: A Natural History of the Unmentionable, author and illustrator Nicola Davies and Neal Layton return with a new book on the necessities of life. This is a fascinating book about how different animals have the same basic needs in life: finding food and water, staying warm or cool, living in the right atmospheric pressure, and breathing air. For any living creature, plant, insect or mammal, not having enough food or being too cold is a tremendous stress on the body. Though the pencil-drawn illustrations are not sophisticated or technical, they will certainly appeal to kids. Students who may have studied polar bears and penguins before may enjoy reading about these animals in this approach. These new facts may also stay with the students longer, as these animals are presented in comparison to the human body. For examples, human beings do not have feathers or eight legs, but they do share the need to stay warm and find food and water.
Grade Level: 4-5
Genre: Nonfiction
Format: Picture Story Book
Content:
Animal Stories
Life Science
ISBN 13: 9780763630676
ISBN 10: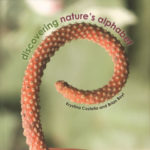 Discovering Nature's Alphabet
Written by Krystina Castella & Brian Boyl
This is not your typical alphabet book. Instead of a picture of an apple next to the letter A, Castella and Boyl use photograph of objects that are shaped as letters. For example, the letter P is a picture of a part of a flower where the tip has curled around. The authors state that none of the pictures were staged and were found in the form that is show in the photographs. Which makes me wonder how many letters I have missed on my last walk. The result is a book that makes it interesting to trace the letters of the alphabet. It also encourages students to look and find letters in not so obvious places. The engaging photographs can lead to lots of art and/or letter recognition lessons.
Grade Level: K-1
Genre: Nonfiction
Format: Picture Book
Content:
ISBN 13: 9781597140218
ISBN 10: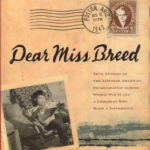 Dear Miss Breed
Written by Joanne F. Oppenheim
Dear Miss Breed is a book about a San Diego Librarian, Clara Breed and how she stayed in touch with a group of Japanese children and teenagers during the years following the bombing of Pearl Harbor. Oppenheim pieced together all the letters that were sent to Miss Breed while the "children" were interned at Poston, Arizona. Though, very little of what Miss Breed sent to the children survived, this book does include articles or excerpts of what Miss Breed wrote for various news or magazine organizations. In addition, throughout the book Oppenheim sprinkles testimony from the 1981 congressional hearings of the Commission on Wartime Relocation and Internment of Civilians, photos, political cartoons, quotes and letters from people at the time, such as Eleanor Roosevelt. This book is an in depth snapshot of what United States was like during this time for a group of children whose only crime was being Americans with the Wrong Ancestors.
Grade Level: High School
Genre: Nonfiction
Format: Picture Story Book
Content:
US History
Civics
ISBN 13: 9780439569927
ISBN 10: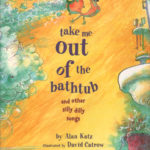 Take Me Out of the Bathtub and Other Silly Dilly Songs
Written by Alan Katz; Illustrated by David Catrow
Kids love silly songs or silly poems. Many years ago, I had a chance to order some books for a kindergarten class. One book I got was called Andrew's Loose Tooth. It was an instant hit and they just about wore out the tape and the book. Part of the appeal was the silliness of the story. Take Me Out of the Bathtub and Other Silly Dilly Songs is a collection of songs or poems—depending on the student's familiarity of the original song— that are twists on many of the childhood song we all know, such as "I've Been Working on the Railroad," and "Row, Row, Row Your Boat." The words have been changed but the rhythm and meter of the original song is still there, so that the students can still sing the poems.
Katz also released a book of poetry (OOPS!) on March 1, 2008 that looks like it might be another a student favorite.
Grade Level: 4-5
Genre:
Format: Picture Story Book
Content:
poetry
ISBN 13: 9780689829031
ISBN 10: