Read-Aloud Favorites
Read-Aloud Favorites are an essential component of TextProject's mission of providing appropriate texts for struggling and beginning readers. The Common Core State Standards bring increased focus to what it is that students are learning in schools and what they need to know. Through read-alouds, students can be introduced to topics and genres that they might otherwise not be able to read independently.
To read more about the importance of reading aloud in a classroom, please read this blog entry in Frankly Freddy.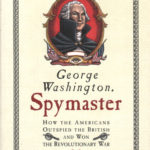 George Washington Spymaster
Written by Thomas B. Allen; Featuring Illustrations by Cheryl Harness
Did you know that founding father and first President of the United States, George Washington, was also a champion of espionage? Thomas B. Allen, in his in his award-winning book, entitled George Washington, Spymaster: How the Americans Outspied the British and Won the War, reveals how one of our greatest presidents managed a large spy network that undermined the British during the Revolutionary War. Allen takes the reader from Washington's humble beginnings as a young Major in the Virginia militia, who fraternized with the enemy to acquire the vital information to help the British defeat the French during the French and Indian War, to his duplicitous dealings with the British during the Revolutionary period. In one episode, George Washington used a double agent by the name of Elijah Hunter to pass misinformation to British Generals. This paved the way for Washington and his Continental Army to make the infamous crossing of the Delaware to defeat British mercenaries and ultimately win the Revolutionary War.
This book is an interesting read full of intrigue and suspense as the story unfolds. Accompanying the story is a set of illustrations that includes old sketches and old maps. Along the same theme of codes and spies are secret codes embedded in the book that the reader can decipher using a code that Washington and his ring of spies developed.
Grade Level: High School
Genre: Biography & Memoir
Format: Chapter Book
Content:
united states history
ISBN 13: 9781426300417
ISBN 10: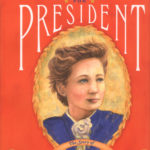 A Woman for President
Written by Katerine Krull; Illustrated by Jane Dyer
In 1872, when women still wore corsets and bustles, when it was "inappropriate" for women to dine by themselves in a fancy restaurant, one woman challenged the status quo and ran for the office of the President of the United States. The audacity of her presidential candidacy is also magnified by the fact that she ran for office 48 years before the Nineteenth Amendment granted women the right to vote.
This book is a lovely introduction to Victoria Woodhull and her presidency campaign. Over time, Woodhull has all but disappeared from history. Since 1872, there have been many other women who ran for the presidency, such as Shirley Chisholm. But as we head into the 2008 presidential election with another female presidential candidate, let's remember Victoria Woodhull, who led the way.
Grade Level: 4-5
Genre: Biography & Memoir
Format: Picture Story Book
Content:
united states history
ISBN 13: 9780802796158
ISBN 10: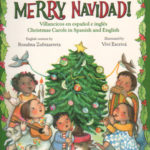 Merry Navidad!
Compiled by Alam Flor Ada & F. Isabel Campoy; English Versions by Rosalma Zubizarreta; illustrated by Viví Escrivá
Merry Navidad! is a collection of villancicos, Spanish Christmas songs. Though the book does have carols in English and Spanish, these songs are not translated version of Christmas carols. Instead the songs are traditional Spanish Christmas songs that are presented in both English and Spanish.
All of the villancicos are presented as snippets that would work equally well as songs or poems. The 19 villancicos in Merry Navidad! are organized into nine categories. Six of theses villancicos are written with musical notes so that they can be played on a piano or sung.
Viví Escrivá's illustrations are beautiful and they complement the mood and the heritage of the villancicos.
Grade Level: 4-5
Genre: Poetry & Verse
Format: Picture Story Book
Content:
Poetry & Verse
Holidays
ISBN 13: 9780060584344
ISBN 10:
It's a Miracle!
Written by Stephanie Spinner; Illustrated by Jill McElmurry
This is a lovely book about a boy and his family as they celebrate Hanukkah. For the first time, Owen is the OCL—Official Candle Lighter—for his family's menorah. During the eight nights of Hanukkah, his grandmother tells Owen a bedtime story. Each story is about a member of their family, and each story highlights a theme celebrated in Hanukkah: family, overcoming adversity, and miracles.
Grade Level: 2-3
Genre:
Format: Picture Story Book
Content:
holiday
ISBN 13: 9781416950011
ISBN 10: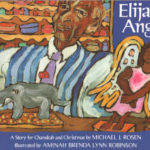 Elijah's Angel
Written by Michael J. Rosen; Illustrated by Aminah Brenda Lynn Robinson
This book is based on the real-life friendship of the author, Michael Rosen, and Elijah Pierce. The story takes place when Rosen was nine years old, and Elijah was "more than eighty years old." Elijah was the local barber who also carved works of art. As a young child, Rosen would visit Elijah on his way home from Hebrew school to watch Elijah create his works of art. But as Elijah was a Christian and Rosen a Jew, there was very little Michael could do but to admire Elijah's art. Until one year when the first day of Chanukah and Christmas fell on the same day. Elijah gave Rosen a carving of an angel. At first Rosen was stunned because he had admired the angels Elijah was carving, and was astounded with the magnitude of the gift. But Rosen was also afraid he was committing an offense against his Jewish religion because he now owned a "graven image."
This is a fabulous story about how friendship can transcend age, race, and religion.
Grade Level: 4-5
Genre:
Format: Picture Story Book
Content:
holiday
ISBN 13: 9780152015589
ISBN 10: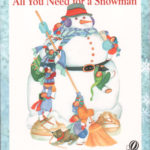 All You Need For A Snowman
Written by Alice Schertle; Illustrated by Barbara Lavallee
What do you do with a pile of freshly fallen snow? Make a snowman of course! All You Need for a Snowman is a sweet book about a group of children working together to make a big snowman. The lyrical format of the text is simple and lovely.
Grade Level: K-1
Genre: Fantasy
Format: Picture Book
Content:
holiday
ISBN 13: 9780152061159
ISBN 10: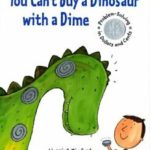 You Can't Buy a Dinosaur With a Dime
Written by Harriet Ziefert; Illustrated by Amanda Haley
A little boy buys a toy dinosaur with his money. When he does, he wishes he had more money to buy another dinosaur. After he earns some money for cleaning the yard, and his mother gives him his allowance, the little boy goes back to the toy store to buy the second toy dinosaur.
This is a brief story that takes the reader through the steps of counting out coined money (dollar bills are not mentioned). This is a great book for young students to work on their understanding of coined money and what it means to buy something with money. There are two sections in the back to for the older students. One is on activities, and the other is on money trivia.
Grade Level: 2-3
Genre: Fantasy
Format: Picture Story Book
Content:
economics
ISBN 13: 9781593545918
ISBN 10: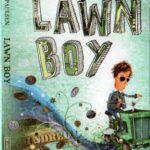 Lawn Boy
Written by Gary Paulsen
What started out as a one-person lawn-mowing business grew into 15-person business with a stock portfolio and a sponsorship in a local wrestler. Along the way the "lawn boy" (not named in the story) learns about business and making money.
This is a clever book that takes the reader through the basics of business and the stock market. The chapter headings are also clever and highlight some of the issues that come up when starting or running a business. For example, the chapter heading "Labor Acquisition and Its Effect on Capital Growth" is about how lawn boy hired more workers to meet the demand of his lawn mowing service, which resulted in increased profit. It was ingenious to use the text within the chapter to help the reader understand the formal economics terms. This would be a great book to read aloud to students while learning about economics and business.
Grade Level: 4-5
Genre:
Format: Chapter Book
Content:
economics
ISBN 13: 9780385746861
ISBN 10: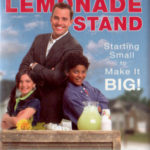 Beyond The Lemonade Stand
Written by Bill Rancic
Beyond the Lemonade Stand is an interesting book about how Bill Rancic used small opportunities to make money when he was young. The book is divided into five parts. In the first part of the book, Rancic focuses on his life experiences and he adds vignettes from 9-12-year-old students (Rancic interviewed students at a Chicago suburb elementary school). For example, Rancic made use of opportunities such as a heavy snowfall to make some money. Rancic also learned the importance of being prepared at a job and to complete tasks today instead of tomorrow when he forgot to bring bags to hold the leaves he was raking. Instead of returning right away to complete his task, Rancic returned the next day to find that the leaves had scattered and Rancic had to re-rake the leaves.
The second part is the gem of the book. The stories are great, but the second part is new and different. Here, Rancic goes through 20 kid-friendly business plans. The format of these plans is a great tool for students to organize their business ideas, to make sure they know what is involved in starting their business, and to make it successful. Oftentimes it's not a bad idea that ruins a business, but a poorly organized business plan.
Grade Level: 4-5
Genre: Nonfiction
Format: Chapter Book
Content:
economics
ISBN 13: 9781595141118
ISBN 10: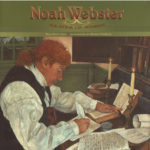 Noah Webster
Written by Pegi Deitz Shae; Illustrated by Monica Vachula
To say Noah Webster was an overachiever is an understatement. In addition to English, Noah Webster knew 25 languages, many of which he taught himself. He was the author of numerous books, as well as newspaper and magazine articles. Noah Webster wrote on a wide range of topics ranging from the abolition of slavery to stopping the spread of yellow fever. Of course what Noah Webster is most well known for is writing the first American English dictionary.
It took Noah Webster many years and visits to libraries in both France and England. When he was done, An American Dictionary of the English Language was hailed the around the world and was adopted as the official dictionary for the English language in the United States, England, France, and Germany.
Because Webster had so many accomplishments, this book does feel like a whirlwind. But the author, Shea, does a good job at showcasing the ideas and passions that make up the man Noah Webster. An added bonus is that some of the people and situations Noah Webster interacts with give the reader a good background into Colonial America, the American Revolution, and the forming of the new government.
Grade Level: 4-5
Genre: Biography & Memoir
Format: Picture Story Book
Content:
biography
ISBN 13: 9781590784419
ISBN 10: